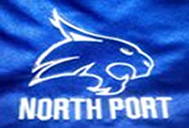 Welcome to the 2015/2016 Wrestling Season!
We are hosting a AAU Tournament on NOV 21st
North Port Wrestling


Fall Tournament
November 21st, 2015
North Port, FL
DATE: November 21, 2015
WEIGH-IN TIME: 8am - 9pm
WRESTLING: 10am

LOCATION: North Port High School
6400 West Price Boulavard
400 West Price Boulevard
North Port, FL 34291


ENTRY FEE: $15 per event/ Second entry $5

AGES: 18 and under
FORMAT:
Round Robin
• This event is sanctioned by the Amateur Athletic Union of the U.S., Inc.
• All participants must have a current AAU membership.
• AAU membership is not be included as part of the entry fee to the event.
• AAU membership must be obtained before the competition begins except where the event operator has a laptop available with an internet connection.
• BE PREPARED: Adult and Non-Athlete memberships are no longer instant and cannot be applied for at the event. Please allow up to 10 days for membership to be processed.
• Participants are encouraged to visit the AAU web site
www.aausports.org to obtain their membership
Free Youth Clinic for anyone interested from grades 1-8 October 26,27,& 29

Youth Club Starts November 2, 2015
Practices will be Mondays and Wednesday 6:00pm-7:30 pm
Youth Clinic at Glennallen Elementary
Fall Drill Club will start on Wed. September 9, 2015.

The practice schedule will be as follows:

Mondays 2:30 - 4:00 p.m.and Wednesdays 6:00 - 7:30 p.m.


Upcoming Varsity, JV, and Youth Club schedules coming soon.


2016 Disney Duals team schedule to be announced soon.


2016 Team Camp schedule to be announced soon.

Elementary and Middle School Clinics and times to be announced soon.


Contact info: Ron Murray 941-628-4584

Email: coachron73@gmail.com